Opening Ceremony of the AIBA Youth Women World Boxing Championship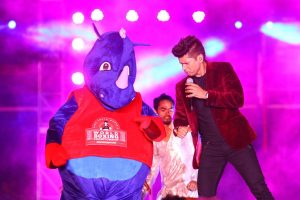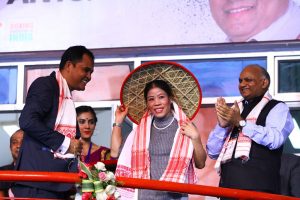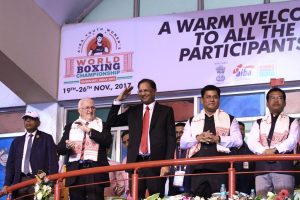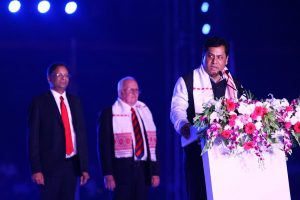 Glitz & Glamour kickstarts World Women's Youth Boxing C'ships

The Boxing Federation of India in its show of strength, staged a grand opening ceremony, beffiting the staging of the AIBA World Women's Youth Boxing Championship.
They threw in glitz and glamour, live music and dance performances as loads of sparkling fireworks lit up the Guwahati skyline at the Md Tayabullah Hockey Stadium here on Sunday.
Gracing the occasion were Honbl Chief Minister of Assam, Shri Sarbananda Sonowal, AIBA Vice-President Edgar Tanner and BFI Pesident Ajay Singh along with boxing Olympians, including the World Championships Ambassador Mary Kom, the Assam, Sports Minister, Naba Kumar Doley and host of other dignitaries. The Chief Minister who is also the Chairman of the LOC declared the World Championships open.
The CM also declared his dream of making Assam the capital sporting state in the country having the best of sporting facilities and stadiums.
The packed stadium went into raptures once the CM declared the tournament. The applauds reached a crescendo the moment the traditional Assamese floated into the stadium and on stage, followed by an Indian classical dance fusion and the Assamese singing sensation Shimanto Shekar got the local crowd going as he belted out the local hit songs.
It was Bollywood sensation, Shaan who sang the anthem song of the tournament, "Make Some Noise" with kid boxers that drew the curtains to the opening day's ceremony.
About Boxing Federation of India (BFI)
The Boxing Federation of India (BFI) is recognised by AIBA and the Ministry of Youth Affairs and Sports, Government of India (GOI) as the nodal body responsible for the development and promotion of Olympic-style boxing in India. BFI has hosted six national tournaments in last one year, attracting over 300 boxers in each of the championships. It has hosted the AIBA 1-star course R&J certification course and seminar as well as the AIBA Cutman course this year. BFI, in association with AIBA and SAI, is also setting up a world-class boxing academy at the Indira Gandhi Indoor Stadium, New Delhi. It also plans to start 8 satellite academies across the country. Under the stewardship of the president, BFI is also organising for the first time the AIBA World Youth (Women) Boxing Championship in November, 2017 and the AIBA World Boxing Championship in 20