SAI – BFI kick off first-ever online …
SAI – BFI kick off first-ever online Coach Development Programme with huge success
The Sports Authority of India (SAI) and Boxing Federation of India (BFI)'s joint initiative – the first-ever 'Coach Development Programme' kicked off on April 16 with a huge response. 274 coaches from all over the country registered for the online session wherein after the initial address by Director General of SAI Sandip Pradhan, BFI President Ajay Singh, BFI Executive Director RK Sacheti, India's High-Performance Director Santiago Nieva conducted a practical and visual-oriented session.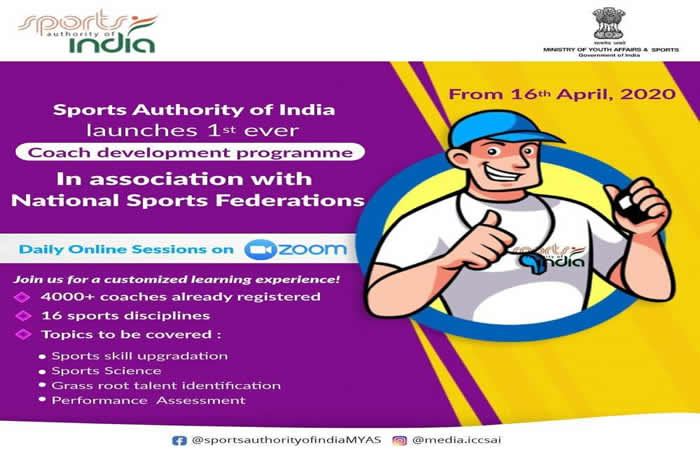 The BFI and SAI-initiated coaching program will be a month-long affair with a total of 30 sessions to be held 5 days a week from Monday to Friday. Seeing the overwhelming initial response, SAI is also keen on bringing in foreign experts and make it an annual fixture.
"I had been talking to Mr. Ajay Singh for ideas and one of those conversations at the beginning of the lockdown resulted in the idea of starting the online classes. I am happy we could roll this out not just as boxing-specific but also for other federations. The response has been great and I am looking forward to a bigger and better plan that can be created for the entire year where foreign experts can be called in so that our Indian coaches can be enriched," said DG-SAI Sandip Pradhan.
In order to keep a tab of the boxers who are confined at home with no tournament or camp in action, BFI was the first National Sports Federation to start the E-Pathshala for its 300 odd boxers across all age categories including the Olympic-bound players. Regular coaching sessions for the ones at the camp have already been initiated and now reaching out to almost all boxing coaches from the country is a major shot in the arm.
"Coaches are the most important cog in the wheel and this is a fantastic initiative by SAI. We are looking forward to making a more meaningful contribution to help coaches become more efficient and also for furthering their technical knowledge of the sport," said BFI President Ajay Singh.
A total of 16 National Federations have initiated this unique program starting Thursday.