GAURAV SOLANKI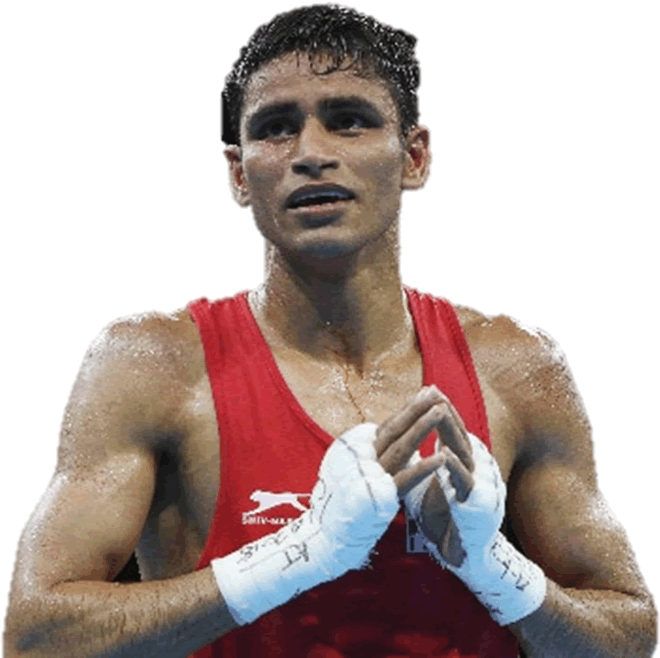 Date of Birth:21-1-1997
Place of Birth: Ballabgarh, Haryana
Stance: Orthodox
Coming from a humble village in Haryana, 22-year-old Gaurav Solanki has enjoyed an outstanding career ever since his foray. Solanki had a successful 2014 and 2015, winning the silver in the Commonwealth Youth Games but somehow looked to be struggling against European boxers.
However, under the watchful eyes of his coaches, with a lot of dedication and hard work, the Haryana lad has improved in leaps and bounds before making it to the elite athletes' level. Today, he is a more wholesome boxer with all-round skills, endurance, strong mental strength, power and speed.
He beat his own countryman and India's representative at the 2017 Hamburg AIBA World Boxing Championships boxer Kavinder Singh Bisht at the National Trials to make it to the Commonwealth Games squad and justified his selection by winning the gold in the 52kg category.
Solanki's purple patch continued as he won a trial bout against top Irish boxers while the squad was in Ireland for an exposure trip and stamped his supremacy in the 52 Kg by winning the Gold at the Chemistry Cup in 2018.
Achievements:

2021: Bronze at Istanbul Bosphorus Tournament, Turkey
2020: Asia-Oceania Olympic Boxing Qualifiers: Pre-Quarter-finals
2020: Bronze at Cologne World Cup, Germany
2019: XXXVI Feliks Stamm International: Gold
2019:  2nd India Open, Guwahati, Assam: Gold
2019: 70th Strandja Memorial Boxing Championships, Bulgaria: Participated
2018: Asian Games, Jakarta: Participated
2018: Chemistry Cup; Halle: Gold
2018: Dual Match vs Ireland (Castlebar, IRL): Winner
2018: Commonwealth Games 2018; Gold Coast: gold
2018: 69th Strandja Memorial Boxing Tournament; Bulgaria: silver
2018: Indian Open International Boxing Championship; New Delhi: bronze
2015: Commonwealth Youth Games 2015; Apia: Silver
2014: Asian Youth Championship; Bulgaria: g]old
2013: 1st Nalanda Cup All India Sub-Junior Cadet (men), Haryana: Gold
2012: 28th Sub-Junior National (men) Akola, Maharashtra: Silver
2012: Participated in training-cum-competition, Yangiabad, Uzbekistan
2011: 27th Sub-Junior National (men) championships, Shillong, Meghalaya: Gold
2009: 25th Sub-junior National Boxing Championships, Maharashtra: Gold