AMIT PANGHAL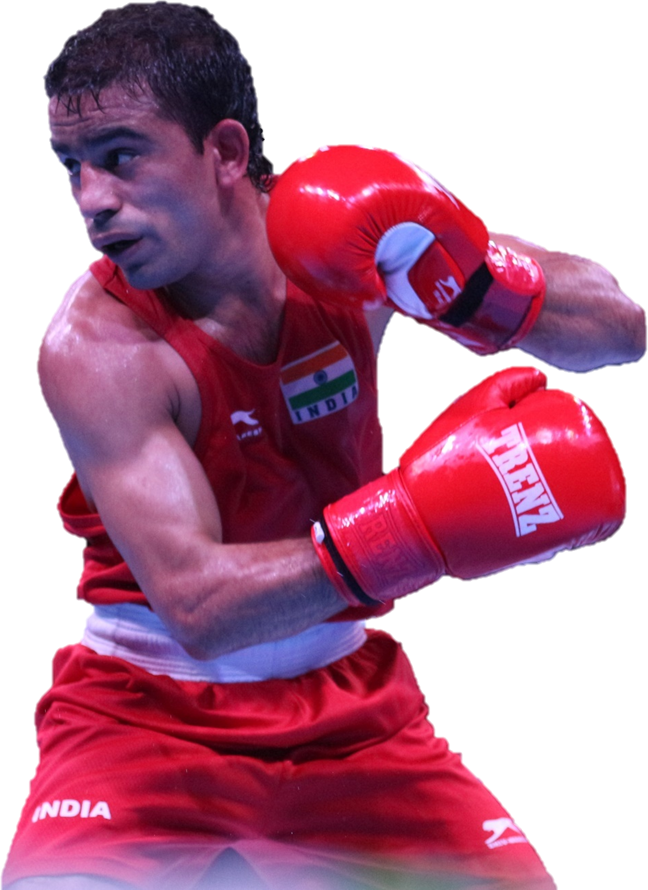 AMIT PANGHAL (52 Kg)
Date of Birth: 16-10-1995
Place of Birth: Rohtak, Haryana
Stance: Southpaw
Amit Panghal is among the top pugilists in the country. He came into limelight with a rich haul in 2017 that included a bronze at the Asian Championships and he also reached the Quarter-finals at the World Championships in Hamburg, Germany. Amit also won a gold medal at the Grand Prix Usti nad Labem Boxing tournament in Czechoslovakia, establishing himself as the rising star of the nation.
The 22-year-old continued his sublime form in 2018 which saw him come up with successive gold medals at the India Open International tournament in January, followed by the triumph in Bulgaria where he won the final at the 69th Strandja Memorial in Bulgaria. Cut to CWG in April, Amit picked up his first-ever Commonwealth medal. He lost to Galal Yafai of England in the final and won the silver in the process.
The boxer's upward journey continued and he won a bronze at the prestigious Chemistry Cup in Germany. One of his greatest achievements in 2018 was winning the light flyweight gold at the Asian Games which he followed up with another glittering gold at the Strandja Cup in early 2019 followed by a gold medal in 2019 Asian Championships. In the same year, Amit became the only World silver medallist from India.
One of the shortest and lightest among male boxers, Panghal, given the way he has dealt with his opponents, it wouldn't be too far-fetched to say that the southpaw is surely the best bet for a gold at the upcoming Commonwealth Games.
Achievements:
2021: Bronze at Governor's Cup, Russia
2020: Gold at Cologne World Cup
2020: Bronze at Asia-Oceania Olympic Qualifier, Jordan
2019: 70th Strandja Memorial Boxing Championships, Bulgaria: Gold
2019: 2nd India Open, Guwahati, Assam: Gold
2019: Asian Championships, Bangkok, Thailand: Gold
2019: 70th Strandja Memorial Boxing Championships, Bulgaria: Gold
2018: Asian Games 2018, Jakarta: Gold
2018: Chemistry Cup, Halle: Bronze
2018: Commonwealth Games 2018, Gold Coast: Silver
2018: 69th Strandja Memorial Boxing Tournament, Bulgaria: Gold
2018: India Open International Boxing Championships, New Delhi: Gold
2017: World Championships (Hamburg, GER): Quarter-finalist
2017: Grand Prix Ustinad Labem (Ustinad Labem, CZE): Gold
2017: ASBC Asian Confederation Boxing Championships (Tashkent, UZB: Bronze)
2017: Strandja Memorial Tournament (Sofia, BUL): Bronze
2016: National Championships: Gold
2012: Indian Youth National Championships: 5th
2011: Indian Junior National Championships: Silver
2010: Indian Junior National Championships: Silver
2009: Indian Sub-Junior National Championships: Gold