BFI & NADA conduct interactive Anti …
BFI & NADA conduct interactive Anti-Doping session on ways to Control and Methods to educate athletes during lockdown
In its efforts to utilise the lockdown period in a more constructive manner for its athletes, the Boxing Federation of India (BFI) conducted a special online programme on Wednesday on 'Anti-Doping Awareness' and discussed the possible slips that an athlete can make. The highly informative and enriching session was conducted by Dr. Ankush Gupta, Project Officer from National Anti-Doping Agency (NADA) and with close to 450 participants, this interactive session met with huge success.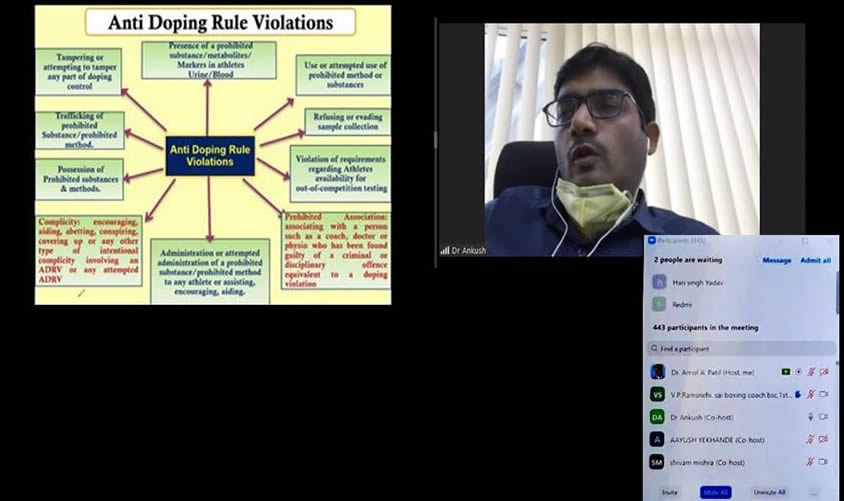 He dispelled the doubts that participants had on many common issues and helped increase their knowledge on the nitty-gritty of anti-doping control, methods and the violations, urging athletes to play fair.
MYTH VS REALITY
Q: Is drinking coffee before a bout safe?
A: 2019 onwards, caffeine has been removed from the list of prohibited substances. So there should not be any harm.
Q: Is Red Bull banned or not?
A: Any energy drink not containing substances in the prohibited list is safe. Athletes need to check the ingredients section to see if it contains any of the banned substances or not. Athletes need to regularly check the list and remember the prohibited substances.
Q: Is using needle banned?
A: The decision can be taken by the organiser or the ruling body of a particular event. NADA and WADA are not concerned with it. But the hygiene practice is to restrict use of needles/syringes by self or unqualified practitioners. There are team doctors and if there is any issue, players need to get in touch with the doctor appointed.
Q: Will having cough syrup out of competition be illegal?
A: Cough syrup is not prohibited.
Q: What about having cough syrup during competition?
A: One or two teaspoons will not cross the threshold. Overdose or bulk quantity can come into doping.
Q: Can TUE (Therapeutic Use Exemptions) be misused by an athlete with the help of team doctor?
A: An athlete can take a TUE only after it has been sent to and approved by NADA. TUE committee has strict norms of approval. Players need to apply 30 days in advance before the application of the drug.
Q: Do you have to apply for TUE every time you take it or just getting the permission once is enough?
A: Do not take prohibited substance without approval from TUEC (Therapeutic Use Exemption Committee). Athletes are responsible for violation of anti-doping rule. Do not forget to apply for TUE each time you need to use the prohibited substance, as prescribed by your doctor and always keep your team doctor in the loop.
Q: Will the athlete continue to receive facilities after being sanctioned for doping?
A: The boxer will not receive any government facility or from any organisation in any kind of sporting activities. In case of the employer of the athlete, it will be duly decided by the policies of the employer.
Q: Which certifications should we look for to choose the supplement's genuineness?
A: Any supplement should be avoided, unless there is any scientific or medical assessment that supports its use. WADA doesn't encourage the use of any supplement.
Q: Is blood transfusion out of competition unsafe?
A: During dope tests, the officers ask these questions, so it should be voluntarily disclosed in the form. Result management procedure will take care of that.
Q: Is taking Multivitamins via injections not legal?
A: As long as it is done through medical prescription and team doctors are aware of the usage, there is no harm.