SATISH KUMAR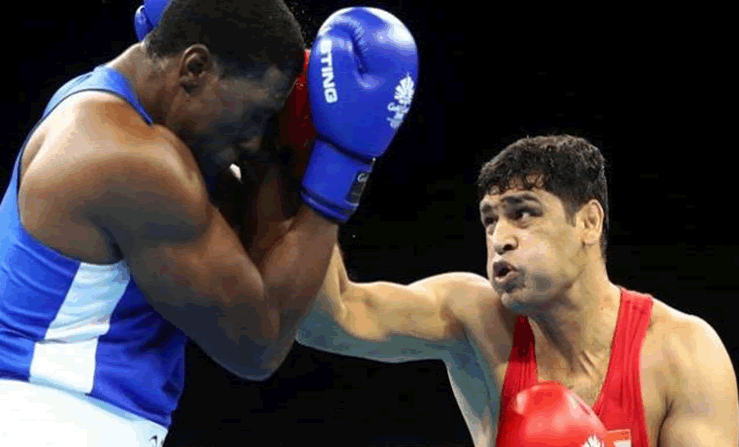 Date of Birth: 04-05-1989
Place of Birth:
Style: Orthodox
Coached by Gurbaksh Singh Sandhu at the SSCB boxing club, Kumar reached the quarter-finals of the 2013 AIBA World Championship. The 26-year-old hails from Bulandshahar city in Uttar Pradesh, where his father is a farmer, and his elder brother works in the Army. Kumar also joined the Army in 2008 and began boxing a year later, making his senior nationals debut in 2011, where he won a silver medal.
Touted as the country's best super heavyweight boxer, he is India's best bet for a medal in any major international competition. The 29-year-old Bulandshahar boxer had cornered a bronze medal in the +91 kg of the 2014 Incheon Asian Games and followed it with another bronze medal effort at the Asian Boxing Championship in Bangkok the next year.
Surprisingly, he was not selected for the 2014 Glasgow Commonwealth Games (CWG) but delivered a telling statement for his non-inclusion in the CWG, bagging back-to-back bronze medals (2014 Asian Games and 2015 Asian Boxing Championships).
With two silver medals at the India Open and 2018 CWG, Satish Kumar carried his sublime form into 2019 and captured the silver medal at the Makran Cup and followed it up with a gold at the second edition of India Open
The esteemed Indian boxer will be keen to live up to his lofty reputation as he looks forward to upcoming challenges.
Achievements:
2019: 2nd India Open, Guwahati, Assam: Gold
2019: Asian Championships, Bangkok, Thailand: Bronze
2019: Makran Cup, Iran: Silver
2018: 3rd National Men's Boxing Championships, Pune: Gold
2018: 21st Commonwealth Games; Gold Coast, Australia: Silver
2018: 1st India Open, New Delhi: Silver
2017: Grand Prix Ustinad Labem, Ustinad Labem, CZE: Gold
2015: Olympic Test Event (Rio de Janeiro, BRA): Bronze
2015: ASBC Asian Confederation Boxing Championships; Bangkok: Bronze
2015: Indian National Championships: Gold
2014: Incheon 2014 Asian Games, Incheon, Korea: Bronze
2014: Indian National Trials: Gold
2013: AIBA World Boxing Championships (Almaty, KAZ): 6th place
2013: ASBC Asian Confederation Boxing Championships (Amman, JOR): 5th
2013: Korotkov Memorial Tournament (Khabarovsk, RUS): Bronze
2012: Indian National Championships: Gold
2011: Indian National Championships: Silver