Four Indians advance to quarters in Women's Youth World Boxing Championship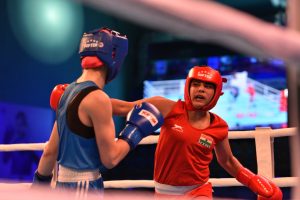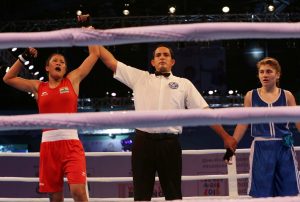 India's Guli Jyoti, Shashi Chopra and Boro Ankushita stole the limelight in Day 3's afternoon session of the AIBA Women's Youth World Boxing Championships here on Tuesday, notching up impressive victories in front of roaring crowds and advancing to the quarterfinals.
Later in the evening, Nitu too joined her illustrious colleagues in the next round, beating Bulgaria's Emi-Mari Todorova.
Italy's Nicoli Rebecca also made an impression, staging the first shock of the day and upsetting European champion Heijnen Chelsey in the Light-welterweight category.
Haryana's dynamo Jyoti and local girl Ankushita were a revelation as they displayed their skill and class against tough opponents.
Shashi trod cautiously in the opening round, gauging her opponent Lin Li Wei-Yi's strengths and weaknesses. But once she figured her out, she made it seem like another workout in the gym.
She eased into her rhythm, shuffling in the centre of the ring and pummelling her opponent at will. She threw straight punches in ones and twos, cleanly striking her target on the jaw, head and midriff. She picked up points in style to the delight of her fans.
The boxer to impress, however, was local girl Ankushita. She was clearly the most accomplished and stylish boxer of the session. Such was her class that her opponent, Cagla Aluc of Turkey will remember her demolition for a long time in the welterweight category.
The Boro girl demonstrated not just strength and power but footwork and fists of fury too. It was sweet revenge for her as well as Cagla the European champion, had beaten Ankushita in the Ahmet Comert International Boxing tournament in her own country in Istanbul, Turkey last month.
High-performance director Rafaele Bergamasco changed Shashi's strategy for this rematch after the setback in Turkey. It paid dividends as Cagla just did not know what hit her, right from the moment she stepped into the roped square till the bell went off for the first time.
Ankushita trained extremely hard for this and relished every moment in the ring.
"She beat me in her country, so it was only natural that I had to return the compliment in my own country," Ankushita said.
Nitu was delighted after her victory. "It was an easy bout for me. I had beaten her earlier in Bulgaria too and I knew how to tackle her," she said. "She didn't allow me to move freely in the first round and my coach changed my strategy midway that made all the difference," she added.
Jyoti too boxed with conviction, using the straight jab, left hook and throwing her right punch straight from the shoulder to rattle her strong and aggressive Ukraine opponent.
USA's popular flyweight boxer Garcia Heaven Destiny probably never expected that her opponent Kim would make hell for her. The Korean came out with loads of aggression and staccato punches to surprise her.
Fortunately, Heaven steadied herself by the second and consolidated her position in the final round to come out unscathed. Even though she pulled through, the victory lacked conviction.
"I will do better in my next bout. Things did not go the way I planned it out," said the American girl later.
RESULTS TILL NOW:
FLY (51kg) : Garcia Heaven Destiny (USA) bt Kim Chaewon (KOR) 5-0; Abdraimova Zhansaya (KAZ) bt Heibloem Indianna (AUS) 5-0; Jyoti (IND) beat Lisinska Anastasiia (UKR) 5-0; Marchese Giovanna (ITA) bt Nampai Kittiya (THA) 5-0; Saracoglu Beyza (TUR) bt Kondakor Emilia (HUN) 4-0; Kinoshita Rinka (JPN) bt Delgerkhangai Khongorzul (MGL) 5-0; Molchanova Ekaterina (RUS) bt Kholmatova Khursandoy (UZB) 5-0 ; Chen Tzu-Hsuan (TPE) bt Gaforova Madina (TJK) 3-2.
FEATHER (57kg): Rodionova Valeriia (RUS) bt Tintabthai Preedakamon (THA) 5-0; Hu Cailling (CHN) bt Abdukholiqzoda Madinai (TJK) 5-0;
Do Hong Ngoc (VIE) bt En Havanur (TUR) 5-0 ;
Martinez (Roma) Linda (USA) bt Mauermann Emily (GER) 3-2;
Lue Glover Victoria (SCO) bt Nagy Angéla (HUN) 5-0 ;
Monkhor Namuun (MGL) bt Clarke Labhaoise (IRL) RSC ;
Abilkhan Sandugash (KAZ) bt Holland Madison (AUS) 5-0 ;
Chopra Shashi (IND) Lin Li Wei-Yi (TPE) 5-0 ; .

LIGHT WELTER (64kg):
Yesseken Marzhan (KAZ) bt Borys Patrycja (POL) 5-0;
Boro Ankushita (IND) bt Aluc Cagla (TUR) 5-0;
Nicolai Rebecca (ITA) bt Heijnen Chelsey (NED) 5-0;
Fiedler Sabine (GER) bt Starkova Diana (UKR) 5-0;
Dynnik Ekaterina (RUS) bt Lawson Emma (AUS) 5-0 ;