MC MARY KOM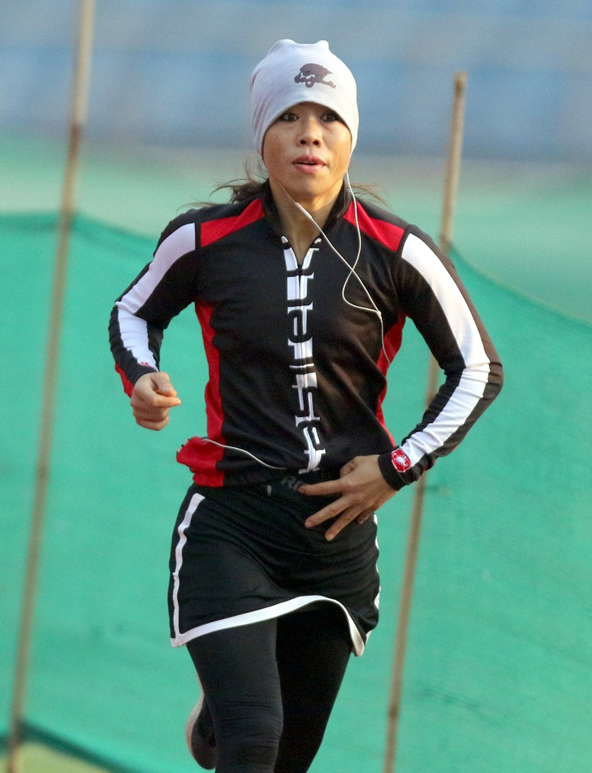 Date of Birth: 03-01-1983
Place of Birth: Kangthei, Manipur
Style: South Paw
Mother of three children, Mary Kom is a legendary figure and central to Indian boxing. A six-time world champion and the only Indian woman to win an Olympic medal in 2012, she is the lone woman boxer in the country to win a gold medal at the Asian Games.
From being a school dropout to attaining stardom, Mary Kom, inspired by the legendary Muhammad Ali, fought opposition from parents and neighbours. The pugilist represented her state of Manipur and the country for years, winning laurels across the world.
The decorated Indian boxer is the first amateur Indian athlete to win the Padma Bhushan. The Manipuri is an inspiration for women in India from all walks of life. Mary was inducted into the AIBA Hall of Fame for her all-time contributions.
Achievements:
2020: Bronze at Asia Oceania Olympic Qualifier, Jordan
2019: 2nd India Open, Guwahati, Assam: Gold
2019: Gold at President's cup, Indonesia
2018: 20th AIBA World Women's World Championship, Delhi: Gold
2018: 13th International Silesian Boxing Championship, Poland: Gold
2018: Commonwealth Games 2018, Gold Coast: Gold
2018: India Open Elite International Boxing Championships, New Delhi: Gold
2017, Asian Women's Boxing Championships, Ho Chi Minh City, Vietnam: Gold
2014, Asian Games, Incheon, South Korea: Gold 2012, London Olympics: Bronze
2012, Asian Women's Boxing Championships, Mongolia: Gold
2010, Asian Women's Boxing Championships, Kazakhstan: Gold
2010, World Boxing Championships, Barbados: Gold
2010, Asian Games: Bronze
2009, Asian Indoor Games, Vietnam: Gold
2008, Asian Women's Boxing Championship, India: Gold
2002, 2005, 2006, 2008 (China): World Boxing Championships: Gold
2001, World Boxing Championship: Silver
2000 to 2005: unbeaten in Sr. Women's National Boxing Championships: 5 Gold
2000: Best Boxer at Sr. Nationals