Indian Elite Men Team
SACHIN SIWACH,  49 kgs
Date of Birth:6-12-1999
Place of Birth: Miththal village, Bhiwani
Present Residence: Bhiwani
Stance: Orthodox
Debut: At the age of 10
Club: Captain Hawa Singh Academy
Coach: Sanjay Sheoran
When Krishan Siwach took his 10-year-old son Sachin to a boxing academy in Bhiwani, in 2009, coach Sanjay Sheoran, son of Captain Hawa Singh, who ran the Captain Hawa Singh Academy, refused to enrol him "because he was undernourished". Seven years later, the light flyweight boxer, became only the third Indian and the first in six years— to win a gold medal at the Youth Boxing World Championships, held at St Petersburg, Russia.
Sachin's father Krishan, who is the brother of Olympian boxer Vijender, was determined to make his son a boxer and on his continuous insistence, Sheoran finally agreed to enrol Sachin in his boxing academy.
After his enrolment, Krishan's main concern was how he was going to afford a healthy diet the coach had prescribed.The wheat the family produced at Mitathal village, was just enough to make both ends meet.
As luck would have it, Krishan found a stray cow that had wandered into the village. He got the cow tested by a vet and the rest is history.
While there are proper boxing rings, gym and other such facilities in other academies, Sheoran's academy is just a small piece of dusty, pebble-laden land with dry, wild grass.
Since there aren't many kids training at Sheoran's academy, he got the chance to focus on Sachin's training entirely.
But Sachin's father Krishan, whose brother Vijender is a boxer, was insistent and
At 5'8, Siwach is easily amongst the tallest boxers in 50-kg category with a remarkable reach advantage.
He beat junior world champion Cosmin Girleanu of Romania in the pre-quarters and Cuba's Jose Grinan in the final using "the stick and move' tactic.
Today Sachin is eyeing the 2020 Tokyo Olympics and believes he has a chance to pick an Olympic medal.
Achievements:
2017Commonwealth Youth Games in Nassau, Bahamas; gold
2017: Asian YouthBoxingChampionship at Bangkok silver
2016: YouthBoxingWorld Championships, held at St Petersburg, Russia Gold
2015: Won Bronze in AIBA JuniorBoxingWorld Championship in Saint Petersburg, Russia in Sep.
2014: Federation CupBoxingtournament, wins gold
2010: Haryana State championships, wins gold
2011: JuniorNationals, lost in the quarterfinals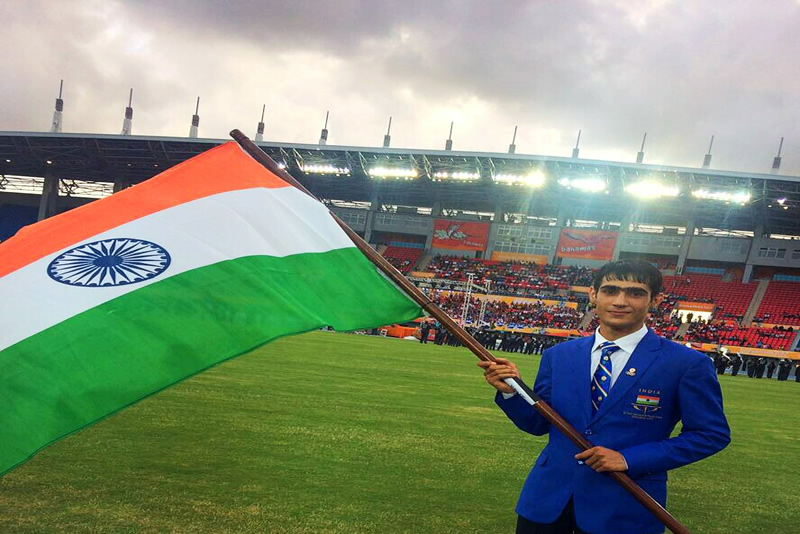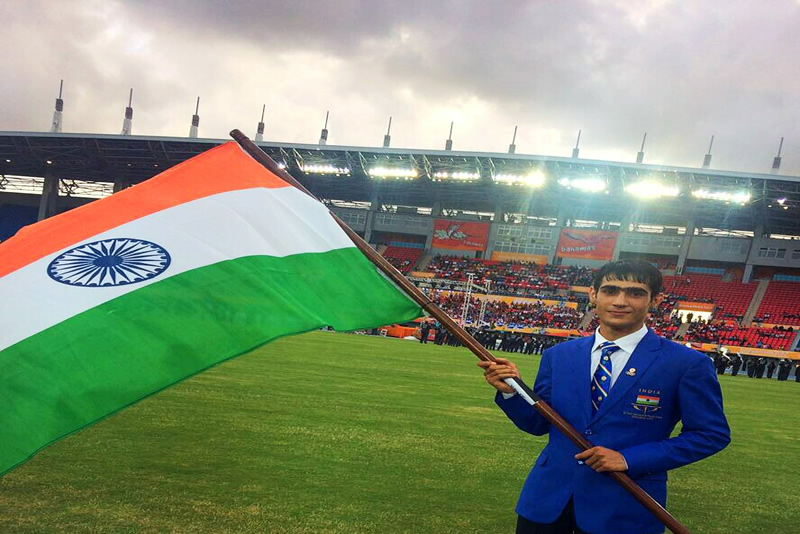 GAURAV BIDHURI 56 Kgs
Date of Birth: 16-5-1993
Place of Birth: Delhi
Present Residence: Delhi
Stance: Orthodox
Debut: Made his debut in 2006
Club: BidhuriBoxingClub
Coach: Dharmendra (father) and national coach Santiago Nieva
Gaurav Bidhuri's father, Dharmendra Bidhuri, a former national boxing champion, harboured big dreams he wanted to earn a gold medal at the World Championships and the Olympics. An early marriage, however, saw him bow out of the sport, but now, Gaurav hopes to keep his dream alive.
Gaurav caught the fancy of most at the World Championships held at Hamburg in Germany. He began training in 2005, under the tutelage of his father. Born in Madanpur Khadar Village in New Delhi, he started training at the BidhuriBoxingClub at the age of ten.
When Dharmendra Bidhuri took part in his first nationals in 1988, he was vehement on making it to the Olympics. 29 years later, his son is now the fourth Indian to have a medal to his credit in the world boxing championships.
Gaurav entered the Championships through a wild-card entry in the 56-kg category in July 2017, when Bhutan was denied a slot at the tournament. He became the eighth Indian to qualify for the Championships this year (2017), but lost his chance at a direct entry to the world showpiece, when he lost to Japan's Ryomkei Tanaka in the box-offs during the Asian Championships in Tashkent.
A boxer of international class, Gaurav was ranked 7 in the world boxing series in 2015 and represented India in camps held in Serbia, Bulgaria, Cuba, and Kazakhstan. In 2013, he secured silver in the World Championship trials and was selected by the Italian NationalBoxingteam for the 2014-15 World Series of boxing.
Achievements:
2017: Grand Prix Usti nad Labem (Usti nad Labem, CZE) gold 56KG
2017-Indian National Selection Tournament: gold
2015/16 participated in several WorldBoxingSeries tournaments
2014: Indian National Trials gold in the 52 kg category
2012: Indian National Championships silver medallist in 52 kg category
2011: President's Cup (Jakarta, INA) bronze
2011: Indian Youth National Championships gold in 49KG
2010: Indian Youth National Championships bronze
2009: Indian Junior National Championships gold in 48 kg.
MD HUSSAMUDDIN
Date of Birth:
Place of Birth: Nizamabad, north Telangana
Present Residence: Secundrabad
Stance: Southpaw
Debut: 2009 Junior Nat. Aurangabad
Club: Services
Coach: father MD Shamsuddin
Mohammad Hussamuddin hails from a family of boxers and is the youngest of six brothers, four of who are seriously entrenched in the sport.
Hussamuddin, whose role model is Vasyl Lomachenko, the WBO super featherweight champion since 2016, was afraid to don the gloves until his father and coach, Mohammad Shamsuddin, got rid of that fear and taught him the art at the Collectorate grounds in Nizamabad, north Telangana.
He went on to outshine his siblings and established himself in state-level competitions before moving on to the national scene, making his debut in the 2009 juniorNationalsat Aurangabad, Maharashtra, claiming bronze.
He then picked a silver in the January 2010 Panchayat Yuva Krida Khel Abhiyan (PYKKA)Nationals in Punjab, conducted by the Union Ministry of Youth Affairs.
Silvers in the May 2011 YouthNationalsat Kakinada and the following year's edition of the same competition at Patiala, Punjab. Turned to gold in his debut at the senior nationals at Guwahati in December last year.
Hussamudding then got himself enrolled at 1 EME Centre, outside Secunderabad, and trained under coach Narender Rana at the Army Sports Institute in Pune, and subsequently from Kuttappa, who fine-tuned his skills, in blocking punches.
The boxer's potential was spotted early and in 2011, he was sent to a fortnight-long stint of training and competition to Havana, Cuba before participating in the October 2012 Tammer Cup in Finland and later in the Youth World Championship in Yerevan, Armenia.
His barren run in international outings ended with bronze at the 2015 Military World Games
Achievements:
2009: JuniorNationalsbronze winner
2010: NationalsPunjab, picked silver
2011YouthNationalsat Kakinada, silver medal
2012Tammer Cup in Finland
2012Youth World championship in Yerevan, Armenia
2014: China Open in Guiyang
2015Military World Games in South Korea; bronze medal
2016: Sr.Nationals, Guwahati: wins gold
2017: 68th Strandja Memorial Tournament in Sofia, Bulgaria.won silver
SHIVA THAPA 60kgs
Date of birth:8 December 1993
Place of birth: Guwahati, Assam
Present residence: Pune
Coach:Jaidev Bisht;
Club: Army Sports Institute Pune.
Shiva was the youngest Assamese to qualify for the London Olympics 2012. He clinched a gold medal at Asian MenBoxingQualifying Tournament, beating Japan's Satoshi Shimizu, a 2009 Asian championship bronze medalist, 31:17 in the semifinals held on 12 April 2012 at Astana, Kazakhstan. In the quarterfinals, Thapa defeated Worapoj Petchkoon of Thailand, Athens Olympic Silver Medalist and 2010 Asian Games, winner.
Shiva Thapa's father Padam Thapa, by profession, is a small-scale businessman, who owns small a steel furniture shop in Guwahati. His mother Goma Thapa is a housewife. Shiva Thapa is the youngest in his family. His brother is a silver medalist boxer at the 33rd Guwahati National Games. He has 4 sisters.
Major achievements
2015 ASBC Asian ConfederationBoxingChampionships (Bangkok, THA) bronze
2015 Doha International Tournament (Doha, QAT) gold 56KG
2014 Commonwealth Games (Glasgow, SCO) 9th place 56KG
2014 World Series ofBoxingSeason 2013/2014 6th Round 56KG
2013 AIBA World Championships (Almaty, KAZ) 5th place 56KG
2013 ASBC Asian Continental Championships (Amman, JOR) gold 56KG
2013 Korotkov Memorial Tournament (Khabarovsk, RUS) bronze
2012 London 2012 Olympic Games (London, GBR) participant 56KG
2012 Republic of Kazakhstan President's Cup (Almaty, KAZ) 6th place 56KG
2012 AIBA Asian Olympic Qualification Tournament (Astana, KAZ) gold 56KG
2012 Grand Prix Usti nad Labem (Usti nad Labem, CZE) silver 56KG
2011 Indian National Championships gold 56KG
2011 ASBC Asian Continental Championships (Incheon, KOR) participant 56KG
2011 Giraldo Cordova Cardin Tournament (Havana, CUB) 6th place 56KG
2011 Beogradski Pobednik Tournament (Belgrade, SRB) gold 56KG
2011 Indian National Games silver 56KG
2010 Singapore 2010 Youth Olympic Games (Singapore, SIN) silver 54KG
2010 AIBA Youth World Championships (Baku, AZE) silver 54KG
2010 ASBC Asian Youth Continental Championships (Tehran, IRN) 7th place 54KG
2009 AIBA Junior World Championships (Yerevan, ARM) bronze 52KG
2009 Indian Junior National Championships gold 52KG
2008 Indian Junior National Championships gold 54KG
2008 Children of Asia Games (Yakutsk, RUS) bronze 50KG
2008 Heydar Aliyev Junior Cup (Baku, AZE) gold 50KG
VIKAS KRISHNAN 75 KG
Date of Birth:10-2-1992,
Place of Birth: Singhwa Khas village in Hissar
Present Residence: Haryana, where he is a Police officer
Stance: Southpaw
Debut: Made his National debut in 2009
Club: BhiwaniBoxingClub
Coach: SR Singh
Vikas Krishan Yadav made his mark when he won a gold medal in the 2010 Asian Games in the Lightweight category. He also won has the prestigious Arjuna award, India's second highest sporting award.
Vikas was born in Singhwa Khas village and migrated to the city where he joined the BhiwaniBoxingClub. Later, he received training in the Army Sports Institute at Pune. Yadav's professional debut was in 2010 at the Asian YouthBoxingChampionships where he won a gold medal. The same year, he won another gold in the 2010 Youth World AmateurBoxingChampionships at Baku in the Lightweight category, defeating Evaldas Petrauskas of Lithuania and later in August, won a bronze medal in the 2010 Summer Youth Olympics at Singapore in Lightweight category.
In November that year, he won another gold in the 2010 Asian Games in the Lightweight category, making it his third consecutive gold medal of the year. At the 2012 Olympics Vikas lost out to Errol Spence by two points.
Vikas believed (he still does) he won his opening bout at the London Olympics against USA's Errol Spence. Five hours after having been declared the winner of the bout with a result of 13:11, the result was overturned.
The Bhiwani boy, 20 years old then, was so distraught, that he quit the sport for a year and a half.
Returned to boxing and at the 2014 Asian Games in Incheon, Vikas won bronze.
Achievements:
2015 ASBC Asian ConfederationBoxingChampionships (Bangkok, THA) silver
2015 Doha International Tournament (Doha, QAT) bronze
2014 Incheon 2014 Asian Games (Incheon, KOR) bronze
2014 Indian National Trials gold 75KG
2012 London 2012 Olympic Games (London, GBR)
2012 Grand Prix Usti nad Labem (Usti nad Labem, CZE) bronze
2011 Olympic Test Event (London, ENG) silver
2011 AIBA World Championships (Baku, AZE) bronze
2011 Indian National Trials gold, 69kg
2010 Guangzhou 2010 Asian Games (Guangzhou, CHN) gold
2010 Singapore 2010 Youth Olympic Games (Singapore, SIN) bronze
2010 Indian National Championships gold, 60KG
2010 Haryana State Championships (Haryana, IND) gold 60KG
2010 AIBA Youth World Championships (Baku, AZE) gold 60KG
2010 Asian Youth Championships (Tehran, IRN) gold 60KG
2008 Children of Asia Games (Yakutsk, RUS) gold 54KG
2007 AIBA Cadet World Championships (Baku, AZE) gold 48KG